Platform Services
We've created and support several platforms designed to power and automate content, relationships, and e-commerce transactions for business and nonprofit.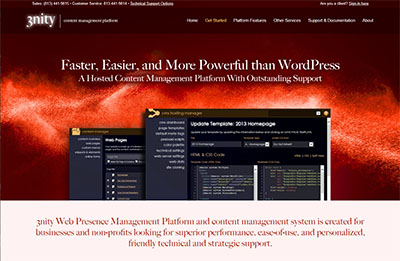 One of our core strengths is the ability to solve industry problems by creating platforms to solve them. The Gomez Agency has provided several platforms to industries throughout the years - from employment to art. The 3nity Web Presence Management Platform is a platform we created to help businesses and nonprofits or all size take control of the website content, customer/client/constituent development, and e-commerce transactions all in one integration platform. It has served over 60,000 clients in almost every country in the world. The platform has grown into a mission critical application for many of our clients, and we continue to expand its capabilities as our flagship offering.
---
Content Management Platform
Our platform provides public and private web page, blogging, online form, and other types of content management functions that make it easy for businesses and nonprofits to distribute the load and manage their websites in a timely fashion without the need for highly technical staff. We also provide technical, strategic, and project support for our clients when they need to make high-level changes and updates to their websites.
---
Client Relationship Management (CRM) Platform
3nity also provides CRM services bundled into its platform services. Maintain a database of contacts, records of their interactions with your organization, and important data about each. Create projects and tasks for team members, setup payment plans and subscriptions with auto billing, send out mass e-mails/text messages/voicemails, and more - all through one platform.
---
E-Commerce Platform
From running an online store to taking donations, our platform consolidates all of your e-commerce functions into one platform and integrates the data with your website and client/constituent data. There no need to use 3-10 different platforms for financial transactions and records. Our platform services provide fast, secure, customizable features for any e-commerce application.